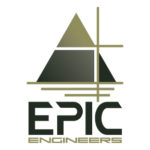 EPIC Engineers is a consulting engineering company specialising in the design and documentation of residential, commercial and marine projects.
We pride ourselves on our reputation of undertaking a "cost effective design at a cost effective price."
We are always looking to save our clients money, we have often developed alternative solutions solving our client's needs and optimising the cost benefits. Our strength lies in our ability to design projects which comply with all the relevant Australian Standards and industry requirements but have been accurately designed to the clients needs and requirements which in turn saves them unnecessary costs.
A significant portion of our work involves residential and commercial works which opens the door to working with a very diverse range of clients and in turn working with various products. We therefore have the ability to integrate our experience with different products to provide a cost benefit analysis to your project allowing
us to provide you with the most feasible design.
Our services are offered either on an hourly rate or fixed price basis and we are well positioned to provide preliminary and pre-design estimates for budgeting and
financial modelling purposes.
Send Message to listing owner